Cultural Programs
Mission
The Cultural Programs Office aims to be the point of reference for an engaged community of young adults who want to make the most of their new life abroad. We offer a variety of opportunities each semester to intellectually stimulate students by exposing them to the rich history and culture of Italy. The combination of these elements creates a deep sense of discovery and directs students to a healthy, balanced journey towards finding their passions. Every activity is designed to enhance respect and appreciation for diversity and foreign cultures and to train students to see things from a different perspective. It is our hope that students will go back home with the feeling that life is a kaleidoscope of many cultures and that each of them contains something vital and precious.
Our motto is: "Wherever you go, becomes a part of you somehow."
Your Journey Begins Here
Share your experience and take inspiration from others! Be part of the Cultural Programs and check out our blog to read about others' journeys!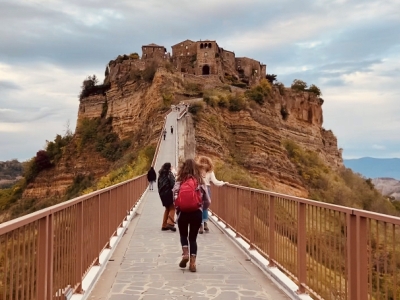 Day and Weekend Trips
Exploring Civita di Bagnoregio made me feel overwhelmingly grateful for my experiences here in Italy.
Each semester, the Student Services office organizes day and weekend trips to unique locations around Italy. Discover the charm of Venice and the magic of Capri, go wine tasting at the Castelli Romani, or on a hiking trip to Tivoli, just to name a few of the trips that allow students to immerse themselves in Italian culture.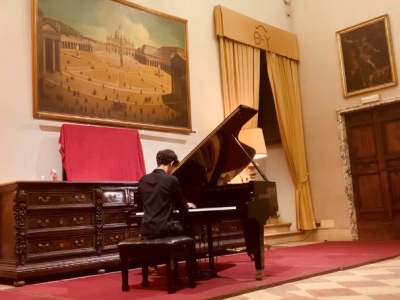 Cultural Activities
While I was on my way to the Jewish Ghetto for a concert, Chopin's melodies vibrated amid the ancient ruins and I felt so grateful to be in Rome.
Living in the Eternal City, beauty is around every corner. The Cultural Programs offer the possibility to attend concerts, shows, and exhibitions in wonderful venues, such as Rome's Globe Theatre, and the Opera House.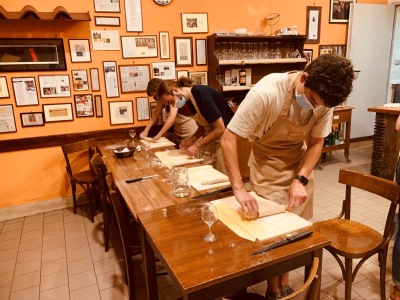 Italian Cuisine
I immensely enjoyed the camaraderie of cooking with friends and getting to use our hands in creating something. It reminded me of cooking with my childhood friends.
The Cultural Program organizes cooking classes held by a professional chef in a typical trattoria, a family-owned, casual restaurant in the heart of Rome.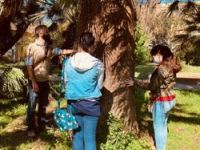 Meditation at the Botanical Garden
The meditation at the botanical garden taught me to savor moments and not rush them.
It is said that "the longest journey of any person is the journey inward". Discover some useful tools to practice breathing and become aware of your innermost energy. The setting is the peaceful and lush Botanical Garden a few minutes away from John Cabot University's Guarini Campus.
---
Read the full JCU Activities and Trips Policies.
Sign up for Activities and Trips.
Visit the Student Life's Facebook page.
A Day in The Roman Countryside
BY PURCHASING A SPOT ON A UNIVERSITY TRIP, STUDENTS AGREE TO THE FOLLOWING TERMS AND CONDITIONS:
Students must be aged 18 or older to participate in overnight and athletic trips.
The University operates a no refund policy. The University cannot offer refunds for trips or activities. In the case that a student cannot go, it may be possible to find an alternate student within the restrictions placed upon us by plane, train, ferry or hotel operators. Any cost incurred for changing participants will be paid by either the student who is canceling or the alternate student.
Participating in a trip does not count as an excused absence. Check your syllabus and other commitments before purchasing a trip.
Students will be notified via email regarding mandatory forms or pre-trip meetings. The itinerary will also be provided via email a few days before each trip. It is the student's responsibility to make sure that he/she checks their email account to obtain the necessary information. If the student does not receive notification via email, it is each student's responsibility to contact the Student Affairs Department so that the situation can be rectified.
Activities/Trips are offered on a first come, first served basis.
Details of the trips listed are subject to change. The details for the activities listed on the website are correct at the time of going live, but are subject to changes as circumstances dictate. Students will be made aware of any changes to schedules etc., at the earliest possible opportunity via e-mail.
It is the student's responsibility to acquire any necessary travel documentation such as a visa or individual travel insurance. Failure to obtain any necessary travel documents will not entitle the student to a refund. If you are not sure if you need a visa to enter a particular country, contact the embassy of the country you intend to visit.
The University reserves the right to cancel any trip should there be insufficient numbers OR for any other reason it deems necessary such as social or political unrest in a particular country. Students will be notified as far in advance as possible should a trip be canceled. The student will then receive a refund for the trip.
The University cannot be held responsible for spaces that are not officially reserved as the result of an online booking error that is returned as a result of incomplete or denied credit card details.
For further information, please contact [email protected]