John Cabot University Campuses, Facilities, and Hours
semester opening hours*
Campus
Monday-Thursday
Friday
Saturday-Sunday
Guarini
8:00 AM - 10:00 PM
8:00 AM - 9:00 PM
12:00 PM - 9:00 PM
Frohring
8:00 AM - 9:00 PM
8:00 AM - 6:00 PM
CLOSED
Caroline Critelli Guarini
8:00 AM - 6:30 PM
8:00 AM - 6:00 PM
CLOSED
Largo dei Fiorentini
9:00 AM - 8:00 PM
9:00 AM - 8:00 PM
SAT. 10:00 AM - 7:00 PM
SUN. CLOSED
*The opening hours indicated refer to when classes are in session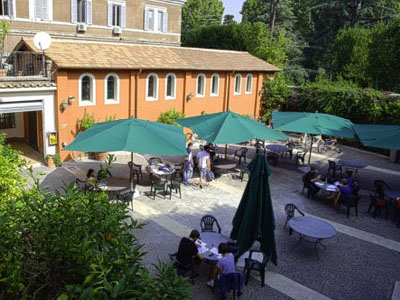 Guarini Campus
Situated in Via della Lungara 233, the Guarini campus hosts the Aula Magna Regina auditorium as well as the Frohring Library, one of Italy's most comprehensive English language libraries. The Guarini campus also hosts numerous study rooms, media production facilities, a meditation garden, as well as JCU administrative offices.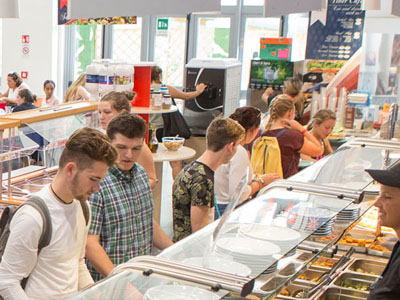 Frohring Campus
JCU's Frohring Campus is located in Lungotevere Raffaello Sanzio 12, on the banks of Rome's famous Tiber river and a five-minute walk from Guarini. In addition to classrooms, the Campus houses offices such as Student Services and Immigration Services. It is also home to John Cabot University's cafeteria, the Tiber Cafe, which serves breakfast, lunch, and dinner and offers various meal plan options.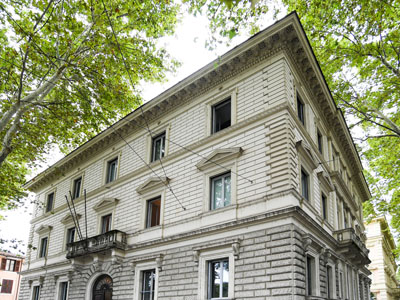 Caroline Critelli Guarini Campus
The Caroline Critelli Guarini Campus, situated in Piazza Giuseppe Gioachino Belli 11, is the first property owned by John Cabot University and it hosts classrooms, administrative offices, and a classroom that can be used for physics and basic electrical engineering courses. It was named for Caroline Critelli Guarini (1900 – 2001), mother of the Hon. Frank J. Guarini, Chair Emeritus of the JCU Board of Trustees and generous benefactor of the University.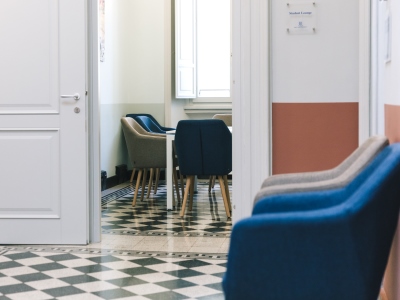 Critelli Annex
The Critelli Annex is an extension of the Caroline Critelli Guarini Campus. Accessible through a beautiful open-air corridor overlooking the Cardia Courtyard, it hosts classes, meeting rooms, offices, the Math Lab, and Writing Center.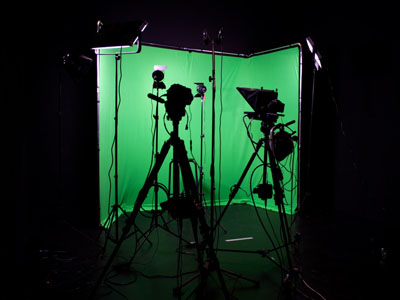 Media Production Facilities
The Media Production Facilities, located on the Guarini Campus, support a wide range of audio and video production activities, from screenwriting through principal photography and onward to editing, visual effects, and musical composition. Students, faculty, and staff make use of Panasonic camcorders and Canon cameras, Tascam and Zoom audio recorders, and Rode microphones in order to create beautiful images and immersive soundscapes.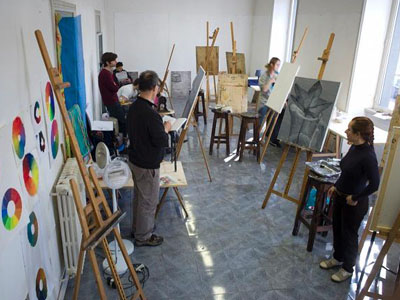 Largo dei Fiorentini Studio Art Facilities
A short walk from the Guarini campus, John Cabot's Studio Art Facilities are housed in a historic Roman palazzo at Largo dei Fiorentini. The Art and Design studios are fully equipped for the widest variety of artistic practices and experimentation. Facilities include a dark room, drawing and painting studios, a photography studio, a fresco studio and a MAC Lab equipped with the latest industry-standard software.