TEDx John Cabot University
John Cabot University Hosts TEDxJohnCabotUniversity on October 18, 2020.
TEDxJohnCabotUniversity was attended by 184 people. Due to Covid-19 restrictions, the event was video-recorded and streamed on Zoom. The JCU community shared ideas about the role universities can play in taking action against Climate Change.
Watch the TEDxJohnCabotUniversity talks.
Read about TEDxJohnCabotUniversity.
See TEDxJohnCabotUniversity photos.
The JCU community is taking action to contrast Climate Change:
Student Clubs are organizing ways to guide their peers and promote solutions to problems;

JCU's Programs for High Schools are engaging students and teachers throughout Italy in discussions about the environment and learning some of the skills needed to effect change.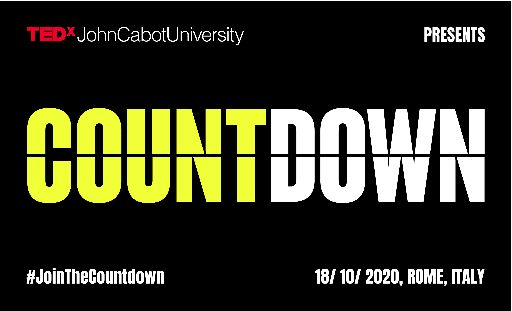 Launched in 2009, TEDx is a program of independently organized events that bring the community together to share a TED-like experience. Some of the best talks from TEDx events have gone on to be featured on TED.com and garnered millions of views from audiences across the globe.
TEDxJohnCabotUniversity is an event focused on contextualizing the position of academic institutions in the pressing issue of promoting climate action through change-makers, educators, and entrepreneurs. As the green wave of climate activism continues to inspire youth globally to protest for a sustainable future, it is paramount to analyze the intertwining roles of education, activism, and business in shaping humanity's race against time vis-à-vis climate change. Speakers from John Cabot University will present the multifaceted framework of universities as key galvanizers of climate action.
Preserving the beauty and rich diversity of our miraculously welcoming blue planet is a fundamental challenge for all of us, and especially for the younger generations. The elimination of pollution and toxic materials from our lives must be considered a primary task. Equally important is making sure that climate change does not put our planet and our future at risk. This is an undertaking of paramount importance, which requires our active participation, combined with intelligent, objective analyses of the options in front of us. Events like this one, which raise the awareness of students and the general public to the need to ensure a clean and green planet for future generations are of the utmost importance, and I want to thank the organizers for making this possible. ~ Franco Pavoncello, President of John Cabot University
TED is a nonprofit organization devoted to Ideas Worth Spreading, often in the form of short talks delivered by leading thinkers and doers. Many of these talks are given at TED conferences, intimate TED Salons and thousands of independently organized TEDx events around the world. Videos of these talks are made available, free, on TED.com and other platforms. Audio versions of TED Talks are published to TED Talks Daily, available on all podcast platforms.
TED's open and free initiatives for spreading ideas include TED.com, where new TED Talk videos are posted daily; TEDx, which licenses thousands of individuals and groups to host local, self-organized TED-style events around the world; the TED Fellows program, which selects innovators from around the globe to amplify the impact of their remarkable projects and activities; The Audacious Project, which surfaces and funds critical ideas that have the potential to impact millions of lives; TED Translate, which crowdsources the subtitling of TED Talks so that big ideas can spread across languages and borders; and the educational initiative TED-Ed. TED also offers [email protected], a program that reimagines TED Talks for workplace learning. TED also has a growing library of original podcasts, including The TED Interview with Chris Anderson, WorkLife with Adam Grant, Pindrop and TEDxSHORTS.