Calendar of Events
Registration is required for all events. All activities are online unless otherwise specified. Please return to this page for updates during the academic year. Italy Reads offers opportunities for high school students to acquire valuable experience in the context of Percorsi per le Competenze Trasversali e per l'Orientamento (PCTO) (ex-Alternanza Scuola Lavoro (ASL)).
See Programs for High Schools or Programmi per le Scuole for more information or contact [email protected].
Italy Reads 2021-2022 William Demby's 'Beetlecreek'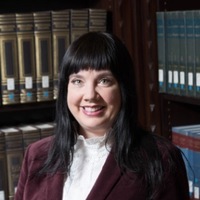 Keynote Address and Master Class for High School Teachers by Melanie Masterton Sherazi, Ph.D.
Melanie Masterton Sherazi is a Los Angeles-based scholar of American literature. She received her Ph.D. in English from the University of California, Riverside, and is a former UC President's Postdoctoral Fellow in English at UCLA and Postdoctoral Scholar in the Humanities at the California Institute of Technology. Sherazi was recently in residence at the American Academy in Rome as a 2020 Terra Foundation Affiliated Fellow, then taught as a lecturer at New York University, Los Angeles. Her scholarly work appears in Italian Quarterly, Modernism/Modernity, MELUS, and Mississippi Quarterly.
19 October, 6pm (online) Register for the Keynote Address
20 October, 6pm (online) Register for the Master Class (only for teachers participating in Italy Reads)
William Demby is a key figure in her current manuscript, which analyzes African American writers' and artists' innovative cultural work in 1950s and 1960s Rome and explores their Italian creative cohorts in the literary and visual arts. She has published on Demby in ARIEL and in the edited collection New Cosmopolitanisms, Race, and Ethnicity (De Gruyter), and a new article is forthcoming in Pacific Coast Philology. While inventorying and conducting research into Demby's papers from Rome, Sherazi began editing and went on to write an Introduction to his final novel King Comus, the product of over twenty years of literary labor but which remained unpublished when he died in 2013. She worked closely with the Ishmael Reed Publishing Company to release the novel in 2017. Following a 2018 Demby symposium that she organized at La Sapienza with Ugo Rubeo, Sherazi is currently co-editing with Rubeo and James C. Hall a Spring 2022 special issue of African American Review devoted to Demby's oeuvre.
Volunteers/Mentors
JCU students interested in getting involved in the Italy Reads program, speaking in English with Italian high school students about William Demby's, Beetlecreek, race relations, social acceptance, and much more are invited to see the Volunteer for Italy Reads page for more information and scheduled training sessions.
Teachers and students are invited to consult the Italy Reads Resources for Teacher and Students. This collection of resources is compiled each year by the JCU librarians. It includes the presentations of Sample Lesson Plans on the author and the work prepared by JCU professors and by Italy Reads high school teachers who attended the relevant Professional Development Course last spring.
Teacher Training Workshops (online)
In preparation for Italy Reads 2021, JCU offered 26 scholarships to teachers to attend a Professional Development Course (30 hrs.), taught by JCU professor Jenn Lindsay, on William Demby's Beetlecreek. The emphasis of this course was to prepare teachers to engage their students in the study of this work from literary and interdisciplinary perspectives. During the course, teachers exchanged best practices. The course introduced background information on William Demby and the social and literary context in which he wrote.
During the workshops, some of these teachers will join Prof. Lindsay by presenting their sample lesson plans and sharing their didactic perspective and experience with their colleagues.Teachers who are new to Italy Reads are encouraged to attend a workshop to learn more about the book and to ask their colleagues and the Italy Reads team any practical questions about the program.
Register for a Workshop
Friday, 24 September 2021 - 4-6pm
Friday, 22 October 2021 - 4-6pm
Student Video Contest
24 January 2022 - Deadline for students to submit entries using the Video Contest Submission Form. The Award Ceremony will be held in March 2022.
The Italy Reads Student Video Contest is the culmination of a year of activities between high schools and JCU's Italy Reads Program centered around the work and life the selected author. Each year, nearly 200 teachers and their students participate in Italy Reads or one of the other Programs for High Schools offered free of charge by John Cabot University. Many students earn a significant number of hours for PCTO for their participation in Italy Reads.
Video Production Workshop for high school students (online) - write to [email protected] to register to receive the links to the four-part tutorial The Essential Guide to Video Production.
PAST ITALY READS EVENTS
Friday, 23 April 2021 - 4-6pm, Italy Reads 2021 Beetlecreek - Teacher Training Workshop with Jenn Lindsay
Spring 2021 Italy Reads Professional Development Course - Teaching with William Demby's Beetlecreek with Jenn Lindsay.