Performing Arts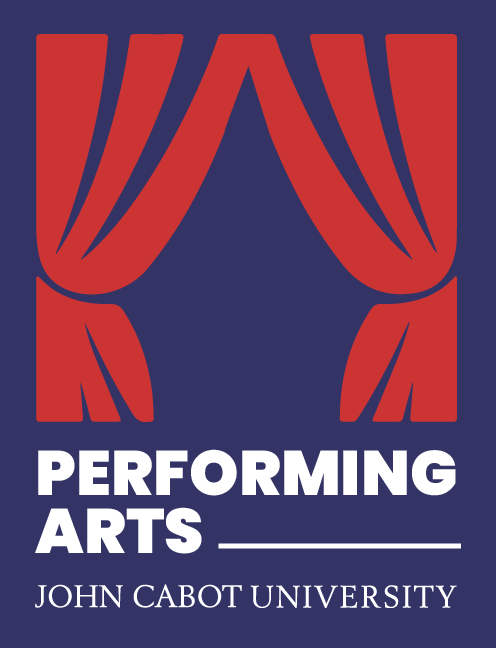 Immersed in Italy's cultural and artistic heritage, John Cabot University is positively influenced by the country's long tradition of excellence in the performing arts. Below is a list of our current and past activities. For more information, email: [email protected]
THEATRE
Performing Arts Company
The Performing Arts Company's goal is to create a group of theatre lovers who would like to commit to performing in a musical. Study abroad and degree-seeking student actors, singers, and dancers are welcome! We are also looking for people who would like to help with music, scenery, stage management, technical assistance or make-up. This amazing teamwork and development of self-expression and personal skills culminate in beautiful productions put on for the JCU community and the public every semester.
Past Shows of the Performing Arts Company include Into the Woods (2011), Chicago (2012), Grease (2013), The Addams Family (2015), The 25th Annual Putnam County Spelling Bee (2016), and most recently The Wizard of Oz (2023), Puffs: Or Seven Increasingly Eventful Years At A Certain School Of Magic And Magic (2023) and a compilation of ten dialogues from Shakespeare in 'An Evening With Shakespeare' (2022). Past members of this extracurricular activity have gone on to pursuing careers in professional theatre and cinema. The group is currently led by professional actor and director James David Blundell.

Theatre Society
The student-run club Theatre Society performs classical, modern and contemporary pieces. The society meets weekly for improv, exercises, practice and show rehearsals. There are multiple performances per semester where students can hone their talents for acting and directing, and also learn the craft by being stage managers or production assistants. So not only do students gain a theoretical understanding of the art of theatre, but they also develop the practical skills that are part of this world.
Past Shows of the Theatre Society include The Mousetrap and Afternoon At The Seaside by Agatha Christie (2016), The Awesome 80s Prom (2017), Baby With The Bathwater by Christopher Durang (2017), Almost, Maine by John Cariani (2018), and Medea by Euripides (2019).
MUSIC
Italy has always been the land of great musicians and composers and John Cabot University is proud to offer students a chance to experience and be part of the world of music through joining the John Cabot Chamber Orchestra or participating in the Open Mics to support humanitarian and social causes on campus.
Open Mic Nights
Various open mic events are organized throughout the semester for the entire student body in order to promote their talent in the music field and get involved in the JCU community. These events also bring up social issues to the attention of the JCU community.
John Cabot University Choir
The John Cabot University Choir, more commonly known as the John Cabot University Singers welcomes all levels singers, from experienced to beginners. Their repertoire includes works by Palestrina, Amy Winehouse, folk songs, and themes from musicals. The Choir performs at many JCU events. Their most recent performance was at an annual concert with the Mani Bianchi singers, who sign in Italian Sign Language. The Director of the Choir is Mrs. Paige Short and her philosophy is that everyone can sing; you just need the right songs.
JCU Band
The JCU Band is an extra-curricular gathering of students on John Cabot University premises to promote a passion for music. The band welcomes all instruments, and rehearsals are open to everybody. No formal auditions are necessary.
John Cabot Chamber Orchestra
The John Cabot Chamber Orchestra is open to both amateurs and professional musicians who have a background in music studies. The main goal of this group is to be a point of reference for unpublished authors and to perform in many locations in and around Rome.