Business Society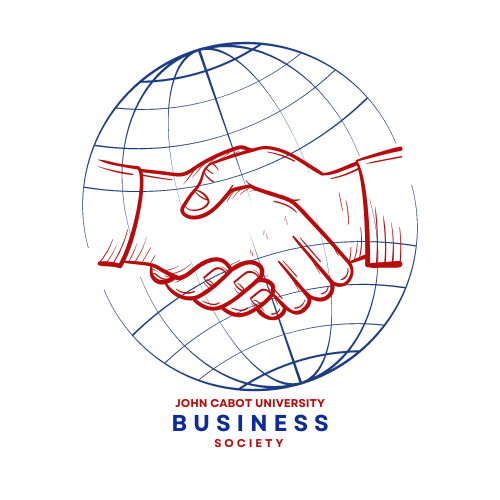 WHAT WE DO
The JCU Business Society is a student-run organization aiming to create a community of students who work together as a team to learn how to conduct business matters hands-on. The Business Society will provide students with a variety of opportunities to utilize the skills they learn in the classroom. We want to stimulate students to think beyond the individual functions of a business and to understand the strategies that lead to sustained success over time. We prepare our members to enter the business world by involving them in projects, activities, and trips, which are essential in terms of organization and knowledge.
The Business Society also cooperates and connects with many organizations to create events and activities with multiple partners. These include the HULT Undergraduate Investment Group, the Grassroots Environmental Club, the Climate Countdown Committee, Enactus, the Institute for Entrepreneurship, the Black and African Student Association, the Asian Cultural Club, the Fashion Club, EDHEC Business School, and the Tuscany Environmental Foundation.
MISSION
To provide JCU students with new academic, professional, and social opportunities.
To educate members on business topics by keeping them updated on the ongoing events in the business world and allowing them to reflect on these events with fellow members.
To promote communication and networking among students, faculty, and alumni by connecting each group to the necessary resources that they are seeking.
To provide members with greater exposure to the world of business through guest speaker forums, club fundraisers, community service projects, and trips to leading companies.
The Business Society strives to create an organization where all members are equally able to contribute to meetings and activities. To accomplish this, the board members will aim to restore the inclusive nature on which the club was founded on. Our goal for the upcoming year is to involve as many members as possible in the activities we plan on hosting. Students will benefit from this experience by making connections and expanding their business network.
UPCOMING CHALLENGES AND OPPORTUNITIES
The main challenge the Business Society faces is to bring its members' participation to a new level. The main obstacle we must overcome is getting all the members to our in-person meetings. We are aware of the scheduling conflicts that many students face. Therefore, we have decided to cut down our club meetings from once a week to once every two weeks, with a duration of 45 minutes to one hour.
We want our members to be able to learn from one another, and we will work tirelessly with our advisor to organize several workshop days that can be useful for future businessmen and businesswomen of the world. We are also going to provide a special opportunity for the society's members by going on trips.
The business society is becoming an increasingly international environment and an important organization within the University. We hope to have new faces and people motivated to join the Business Society.
For more information, contact us at [email protected] or check out our website johncabotbusinessclub.com and instagram page.