Italy Reads Program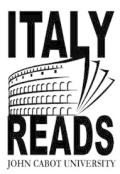 There's more to JCU's Italy Reads Program than just one good book.

Italy Reads is a community-based English language reading and cultural exchange program that collaborates with 200 Italian high school teachers from over 60 high schools across Italy from Naples and Rome to Milan. Each year, one classic work of American literature is selected to read together.
The history of Italy Reads
Italy Reads began in 2009 as a National Endowment for the Arts "Big Read Rome" and the great success and demand for this program has now brought us to its 9th year as Italy Reads. The program benefits from the continued support from the United States Embassy to Italy, the English Theatre of Rome and John Cabot University.
The book for Italy Reads 2018-2019
In 2018-2019, we welcome teachers from high schools in Italy, JCU student volunteers, and Italian high school students to join in our read of The Complete Short Stories by Flannery O'Connor. The edition we are reading is Faber and Faber, ISBN 9780571245789.
Alternanza Scuola Lavoro for high school students
Activities with Italy Reads can now be undertaken in accordance with Alternanza Scuola Lavoro (Dlg.No.107,13.07.2015). For details, contact [email protected]

N.B.: The number of teachers includes a school Principal for each school. Each participating teacher involves an average of 25 students in the Italy Reads program. Some teachers do not participate each and every year.
More Information
It's easy to be a JCU student volunteer. Please see our Calendar of Events for a complete list of Italy Reads activities.
To register as an official Italy Reads 2018-19 participant, or to receive more information about Italy Reads, please e-mail us at [email protected]
Participating teachers, students, libraries and book group leaders can attend a preview screening of the film "Flannery", the Keynote Address for the general public and a Master Class for Teachers by Fr. Mark Bosco and attend a production by The English Theatre of Rome, participate in Student Exchanges, and compete in a Student Video Contest. Participating teachers can also attend a day-long Italy Reads training workshop in April and in September.
Keynote Address - Participating teachers and their students will be invited to the Italy Reads Keynote Address delivered by a leading scholar on Flannery O'Connor, Fr. Mark Bosco. See the Calendar of Events for details.
Master Class for High School Teachers and Book Group Leaders - by Flannery O'Connor expert Fr. Mark Bosco. See the Calendar of Events for details.
Play Performances - Participating teachers and their students will receive discounted tickets to The English Theatre of Rome's production of the stage adaptation of one of the works of Flannery O'Connor. See the Calendar of Events for details.
Student Video Contest - Students participating in Italy Reads can enter a video contest to compete for significant cash prizes. See Student Video Contest for details.
Student Exchanges - John Cabot University students will be available to visit schools to lead discussions of the poet and her work in a student exchange program. Students of participating Italy Reads teachers will also be invited to participate in discussions of the life and work of O'Connor at the John Cabot University campus. Contact Italy Reads at [email protected] for details.
Teacher Training - Participating teachers can take part in a day-long workshop about the author and her work and the use of the teaching materials gathered by Italy Reads and produced by Italy Reads 2018 Scholars. Contact Italy Reads at [email protected] for details. The Teacher Training Workshop will be offered on 28 September 2018 (this is a repeat of the Workshop held on 13 April). View the program here.
Teaching Materials - Through the Italy Reads website and the JCU Frohring Library, teachers participating in Italy Reads have access to a wealth of supplemental electronic materials related to the author and her work. See Resources for details. Contact Italy Reads at [email protected]
Books for Libraries - Participating libraries can receive a limited number of free copies of The Complete Short Stories by Flannery O'Connor. Contact Italy Reads at [email protected]