Italy Reads Program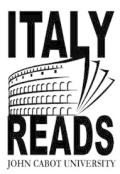 There's more to JCU's Italy Reads Program than just one good book.
The history of Italy Reads
Italy Reads is a community-based English language reading and cultural exchange program that collaborates with 200 Italian high school teachers from over 60 high schools across Italy from Naples and Rome to Milan. Each year, one classic work of American literature is selected to read together.
Italy Reads began in 2009 as a National Endowment for the Arts "Big Read Rome" and the great success and demand for this program has now brought us to its 10th year as Italy Reads. The program benefits from the continued support from the United States Embassy to Italy, the English Theatre of Rome and John Cabot University.
Italy Reads 2021-2022: William Demby's 'Beetlecreek'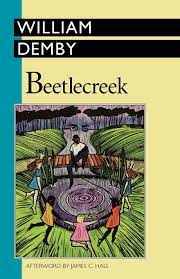 William Demby (1922–2013), was an African-American writer whose novels were focused on American experiences. In 1950 Demby published his first novel, 'Beetlecreek', which he situated in a 1940s-era African-American community in West Virginia. His novel pursues themes of race and personal identity, although instead of portraying white society's injustices to blacks, as many other black writers did, Demby created a story about a reclusive outcast white man who is victimized by a nearby black community. The novel follows the intricate race relations between an elderly white man, a black teen involved in gangs, and an artist following his passions down a dark path.
Join Italy Reads 2021-2022
We welcome Italian high school teachers, JCU student volunteers, Italian high school students and English language book club leaders to join in our read of William Demby's Beetlecreek. The edition JCU has selected for participating teachers is published by Banner Books, University Press of Mississippi/Jackson, 1998, ISBN-1-57806-106-7. Teachers who register to participate receive a free copy of this edition. Based on availability, school libraries will also receive a free copy of this edition.
For participating students, teachers are strongly encouraged to organize their students to purchase bulk orders online directly from the European distributor for this book at a special discounted price for Italy Reads participants. Write to [email protected] to receive the required discount code.
Attend a Teacher Training Workshop (online)
These workshops are aimed at providing all teachers with the basis for teaching this book to their students. JCU professor Jenn Lindsay, Ph.D. will present. Teachers in attendance are encouraged to take advantage of this opportunity to share ideas and network.
Register for the online workshops:
Friday 23 April 2021, 4-6pm.
Professional Development Course
This course, an annual appointment with teachers, is offered each Spring term in preparation for the subsequent academic year. Participants receive a Certificate of Completion for 30 hours of Professional Development.This course is offered by JCU free of charge. Qualified applicants are teachers of English Language and Culture in a high school in Italy who will include their students in the Italy Reads Program 2021-2022. The outcome of this course will be the sample lessons prepared by these teachers and material to support all teachers. This will be posted on Italy Reads Resources for Teachers in June.
I.O. Giulio Cesare, Sabaudia (LT)

IIS Margherita Hack, Morlupo (RM)

IIS Pacinotti-Archimede, Rome

Istituto Paritario Gabriele D'Annunzio, Rome

Liceo "Evangelista Torricelli", Rome

Liceo Blaise Pascal Pomezia (RM)

Liceo Classico Bertrand Russell, Rome

Liceo Classico Statale "Ennio Quirino Visconti", Rome

Liceo Galilei, Santa Marinella (RM)

Liceo Ginnasio Dante Alighieri, Rome

Liceo Ginnasio Statale "Virgilio"

Liceo Scientifico "Ettore Majorana", Rome

Liceo Scientifico "Giovanni Keplero", Rome

Liceo Scientifico "Tullio Levi Civita", Rome

Liceo Scientifico Statale "Farnesina", Rome

Liceo Scientifico Statale I. Newton, Rome

Liceo Scientifico Statale Peano, Rome

Liceo Statale Niccolò Machiavelli, Rome
Percorsi per le Competenze Trasversali e per l'Orientamento (PCTO) for high school students
Activities with Italy Reads can be certified in accordance with ASL/PCTO (Dlg.No.107,13.07.2015). For details, contact [email protected]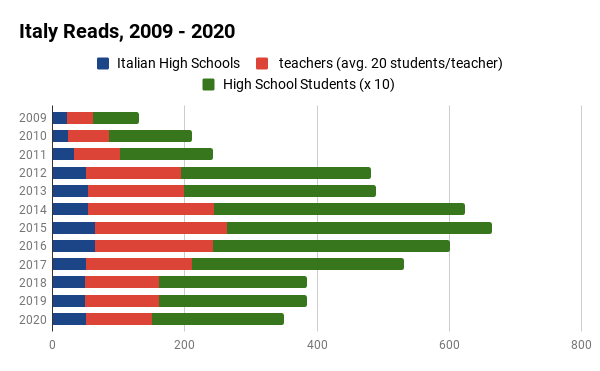 More Information
It's easy to be a JCU student volunteer. Please see our Calendar of Events for a complete list of Italy Reads activities.
To register as an official Italy Reads participant, or to receive more information about Italy Reads, please e-mail us at [email protected]
Participating teachers, students, libraries and book group leaders can attend the Keynote Address for the general public and a Master Class by the Keynote Speaker, attend a production by The English Theatre of Rome (to be confirmed for Italy Reads 2020-2021), participate in Student Exchanges, and compete in a Student Video Contest. Participating teachers can also attend Italy Reads training workshops in September, October and November.
Keynote Address - Participating teachers and their students are invited to the Italy Reads Keynote Address delivered by JCU Associate Professor of Communications and Media Studies Antonio López. See the Calendar of Events for details and to register.
Master Class for High School Teachers and Book Group Leaders - by Professor Antonio López. See the Calendar of Events for details.
Play Performances - (to be confirmed for Spring 2021, based on current Covid-related public health regulations) Participating teachers and their students will receive discounted tickets to The English Theatre of Rome's production for Italy Reads Theatre. See the Calendar of Events for details.
Student Video Contest -Students currently enrolled at a high school participating in Italy Reads can enter a video contest to compete for significant cash prizes. See Student Video Contest for details.
Student Exchanges - JCU students will be available to visit schools to lead discussions of the author and her work in a student exchange program. Students of participating Italy Reads teachers will also be invited to participate in similar discussions at the JCU campus and/or remotely. Contact Italy Reads at [email protected] for details.
Teacher Training - Participating teachers can take part in a workshop about the author, her work and the use of the teaching materials gathered by Italy Reads and produced by Italy Reads 2020 Scholars. These workshops are an opportunity to share ideas on interdisciplinary approaches to the teaching of this book. Contact Italy Reads at [email protected] for details.
Teaching Materials - Through the Italy Reads website and the JCU Frohring Library, teachers participating in Italy Reads have access to a wealth of supplemental electronic materials related to the author and his work. See Resources for details.
Books for Libraries - Participating libraries can receive a free copy of this year's Italy Reads book. A limited number are available. Contact Italy Reads at [email protected]