Italy Reads Program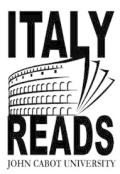 There's more to JCU's Italy Reads Program than just one good book.
The history of Italy Reads
Italy Reads is a community-based English language reading and cultural exchange program that collaborates with 200 Italian high school teachers from over 60 high schools across Italy from Naples and Rome to Milan. Each year, one classic work of American literature is selected to read together.
Italy Reads began in 2009 as a National Endowment for the Arts "Big Read Rome" and the great success and demand for this program has now brought us to its 14th year as Italy Reads. The program benefits from the continued support from the United States Embassy to Italy, the English Theatre of Rome and John Cabot University.
Italy Reads 2023-2024: Spoon River Anthology by Edgar Lee Masters
Edgar Lee Masters (1868-1950) was an American attorney, poet, biographer, and dramatist. He is best known for his acclaimed work Spoon River Anthology. Born in Garnett, Kansas (USA), Masters spent his youth in Illinois.
Fernanda Pivano's translation of Spoon River Anthology was the basis of the songs composed by Italian singer-songwriter Fabrizio De André for the album Non al denaro, non all'amore, nè al cielo.
Spoon River Anthology is in the public domain and can be read online or downloaded free of charge. It is also available in audio version at LibriVox.
Soon after his birth in Garnett Kansas, E. L. Masters and his family moved to Lewistown, Illinois where he grew up. His youth was marred by his father's financial struggles with a faltering law practice and reluctance to support his son's literary interests. He began his career as an attorney in 1891 and moved to Chicago in 1892, where he found a job collecting bills for the Edison Company. He gradually built a successful law practice and, for eight years, he was the partner of Clarence Darrow. In 1898, Masters published his first collection, A Book of Verses (Way & Williams), and married Helen Jenkins. His first books, some of which were published under pseudonyms, showed strong influences from the English Romantic poets and Edgar Allan Poe.
Masters soon considered writing a novel about the relationships between people in a small Illinois town. This idea was transformed through a chance acquaintance. Masters had been submitting poems to Marion Reedy, the editor of Reedy's Mirror in St. Louis. While Reedy didn't publish these poems, he kept up the correspondence and gave Masters a copy of J. W. Mackail's Selected Epigrams from the Greek Anthology. After reading these, Masters felt the challenge to adopt the idea for his novel into this form, combining free verse, epitaph, realism, and cynicism to write Spoon River Anthology, a collection of monologues from the dead in an Illinois graveyard. (ref.: poets.org)
See also Italy Reads Resources for Teachers prepared by JCU's Frohring Library.
Join Italy Reads 2023-2024
We welcome Italian high school teachers, JCU student volunteer mentors, Italian high school students and English language book club leaders to join in our read of Spoon River Anthology by E.L. Masters. This book is available in the public domain and can be downloaded free of charge. It is also available in audio format.
Teachers: Register here to receive details and include your students in this year's activities.
Professional Development
Teacher Training Workshops (online and in-person)
These workshops are aimed at providing the basis for teaching this book and an opportunity for teachers to share ideas and network. Teachers (Italy Reads Scholars) who attended the Professional Development Course on Edgar Lee Masters present and lead discussions of Sample Lesson Plans they have prepared in culmination of the Professional Development Course held each spring. Online workshops are recorded and made availble to teachers who register to participate in the program. Teachers of all subjects are welcome!
Professional Development Course (online)
This course, an annual appointment with teachers, is offered free of charge each Spring term in preparation for the subsequent academic year. Participants receive a Certificate of Completion for 30 hours of Professional Development. Qualified applicants are teachers of English Language and Culture and their English-speaking colleagues in a high school in Italy who will include their students in the Italy Reads Program 2023-2024. The outcome of this course will be Sample Lessons prepared by attending teachers and material to support all teachers and will be posted on Italy Reads Resources for Teachers.
Please note that participation in this course is not obligatory for participation in the Italy Reads program. All material is in English. Many teachers of English Language and Literature collaborate with their non English-speaking colleagues for greater interdisciplinary approaches to the study of American literature.
Italy Reads 2024-2025 Professional Development Course, Teaching a work (to be announced) by Gertrude Stein. January 15 - May 10, 2024. Online weekly seminars, schedule to be announced. To receive details, fill in the registration form.
I.O. Giulio Cesare, Sabaudia

IIS Margherita Hack, Morlupo

IIS Croce-Aleramo, Rome

IIS Leopoldo Pirelli, Rome

IIS Pacinotti-Archimede, Rome

IIS Via Silvestri 301, (Liceo Malpighi)

ISIS Enrico De Nicola, Naples

IMS Vittorio Gassman, Rome

ISS Giordano Bruno, Rome

Liceo Statale Niccolò Machiavelli, Rome

Liceo Statale Vittoria Colonna, Rome

Liceo Classico Bertrand Russell, Rome

IIS Blaise Pascal, Pomezia

Istituto Paritario Gabriele D'Annunzio, Rome

IIS "Evangelista Torricelli", Rome

Liceo Classico "E. Q. Visconti", Rome

Liceo Ginnasio Statale Augusto, Rome

Liceo Classico Aristofane, Rome

Liceo Classico Giulio Cesare, Rome

Lice Classico e Linguistico Kant, Rome

Liceo Classico Kennedy, Rome

Lice Classico Manara, Rome

Liceo Ginnasio Dante Alighieri, Rome

Liceo Galilei, Santa Marinella

Liceo Scientifico Statale "Farnesina", Rome

Liceo Ginnasio Statale "Virgilio"

Liceo Scientifico "Ettore Majorana", Rome

Liceo Scientifico "Giovanni Keplero", Rome

Liceo Scientifico "Tullio Levi Civita", Rome

Liceo Classico Montale, Rome

Liceo Scientifico Statale I. Newton, Rome

Liceo Scientifico Statale Peano, Rome

Liceo Classico Virgilio, Rome

Liceo Scientifico e Linguistico Majorana, Rome

Liceo Foscari, Venice

Liceo Scientifico Morgagni, Rome

Liceo Scientifico Plinio Seniore, Rome

Liceo Scientifico A. Volta, Foggia

Liceo Scientifico e Classico F. Sbordone, Naples

Liceo Scientifico Tulio Levi Civita

Liceo Statale Maria Montessori
Percorsi per le Competenze Trasversali e per l'Orientamento (PCTO) for Italian high school students
Activities with Italy Reads can be certified in accordance with ASL/PCTO (Dlg.No.107,13.07.2015). For details, contact [email protected]
JCU student volunteers
It's easy to become a JCU student volunteer mentor. Italy Reads brings JCU students together with Italian high school students to discuss the book and work together on videos to submit to the Italy Reads Student Video Contest. High school students have the opportunity to practice their English and JCU students get to know Italy a bit better. All benefit from international teamwork!
See the Calendar of Events for dates and times of events this year. Events require registration to attend.To register as an official Italy Reads participant, or to receive more information about Italy Reads, please e-mail us at [email protected]
Keynote Address - An academic expert is invited to speak about the work of literature and the author at this public event.
Master Class for High School Teachers and Book Group Leaders - The Keynote Speaker provides this opportunity exclusively for participating teachers and book group leaders.
Play Performances - Participating teachers and their students receive discounted tickets to The English Theatre of Rome's production for Italy Reads Theatre.
Student Video Contest - Students currently enrolled at a high school participating in Italy Reads can enter a video contest to compete for significant cash prizes. See Student Video Contest for details.
Student Interviews of Guest Speakers - Students work in teams to research, prepare, and interview guest speakers. They learn to write about the interview and present it at a final meeting.
Student Exchanges - JCU students are available to visit schools to lead discussions of the author and the work in a student exchange program. These meetings are scheduled to be held in class, at JCU, or online.
Teacher Training - Participating teachers can take part in workshops about the author, the work and the use of the teaching materials gathered by Italy Reads and produced by Italy Reads Scholars. These workshops are an opportunity to share ideas on interdisciplinary approaches.
Teaching Materials - In collaboration with JCU Frohring Library, Italy Reads provides teachers and students with access to a wealth of supplemental digital materials related to the author and the work. See Resources for details.
Books for Libraries - Participating libraries can receive a free copy of the Italy Reads book. A limited number are available. Italy Reads 2022, the book is accessible in the public domain.