John Cabot University Press
John Cabot University Press seeks to provide a bridge between European and American culture by bringing to the attention of the English-speaking academic world important contributions to debates, activities, and research that have recently been taking place in Italy. It also publishes works originating on both sides of the Atlantic that, as bridges themselves, examine relationships between the culture of English-speaking countries and the culture of ancient Rome and Italy.
Books are distributed by Rowman & Littlefield.
Editorial Board
Brunella Antomarini, Adjunct Assistant Professor of Philosophy
Berenice Cocciolillo, Adjunct Assistant Professor of Italian, Director of Web Communications
Mary Merva, Vice President of Academics, John Cabot University
Franco Pavoncello, President, John Cabot University
For information, contact [email protected].
Publications
2021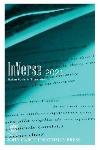 InVerse Italian Poets in Translation 2021
Edited by Brunella Antomarini, Berenice Cocciolillo, Rosa Filardi

The challenges caused by the COVID-19 pandemic remind us of the importance of keeping the dialogue between different languages alive by providing readers all over the world with opportunities to listen to the voices of poets. This is the eighth edition of our bilingual anthology, which provides a comprehensive and independent overview of the Italian poetic milieu.
Featured poets: Vincenzo Bagnoli, Carlo Boassa, Chandra Livia Candiani, Gianni D'Elia, Donatella Della Ratta, Fabio Donalisio, Franca Mancinelli, Nefeli Misuraca, Renata Morresi, Fabrizio Orecchini, Ginevra Sanfelice Lilli, Fabrizio Sani, Jonida Prifti, Tiziano Scarpa, Beppe Sebaste, Cesare Viviani, and Giovanna Cristina Vivinello.
ISBN - 10: 9781611496840
---
2018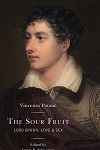 The Sour Fruit: Lord Byron, Love & Sex
By Vincenzo Patanè

Edited by James R. Schwarten, translated by John Francis Phillimore
Both Lord Byron's poetry and his fame as a seducer enchanted and scandalized his time. The Sour Fruit. Lord Byron, Love & Sex examines the poet's versatile sexuality, from his liaisons to his grand loves, female and above all male, in an era when homosexuality could lead to the gallows.
ISBN - 10: 1611496810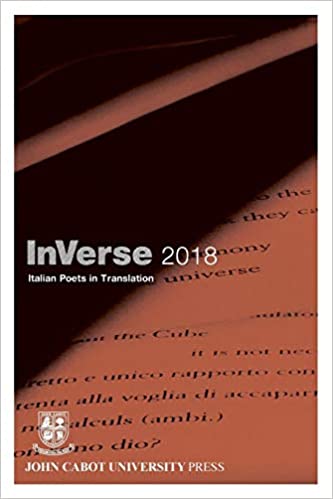 InVerse Italian Poets in Translation 2018
Edited by Brunella Antomarini, Berenice Cocciolillo, Rosa Filardi

This is the seventh edition of our bilingual anthology, which provides a comprehensive and independent overview of the Italian poetic milieu.
Featured poets: Laura Accerboni, Maria Attanasio, Alfonso Benadduce, Dome Bulfaro, Alessandro Ceni, Tommaso Di Dio, Michele Fianco, Umberto Fiori, Gianluca Furnari, Andrea Gibellini, Franco Loi, Gian Ruggero Manzoni, Manuel Micaletto, Gilda Policastro, Laura Pugno, and Luigi Trucillo
ISBN - 10: 9781611496802
---
2016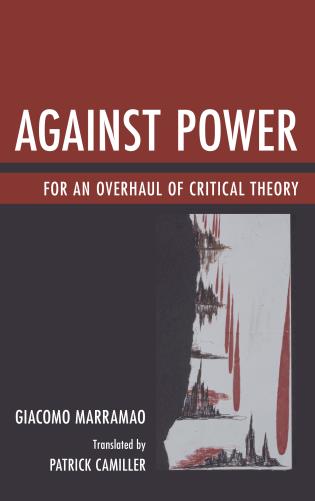 Against Power: For an Overhaul of Critical Theory
by Giacomo Marramao
Translated from the Italian by Patrick Camiller
Giacomo Marramao is professor of theoretical philosophy and political philosophy at the University of Rome III. In his latest book in the study of power, Marramao focuses on the work of two great Central European writers, Elias Canetti and Herta Müller, each of whom, in different periods and contexts, offered a philosophical genealogy of forms of domination and a radical diagnosis of power, command and law.

To grasp the meaning of the transformations of power, it is necessary to go to the roots: to the archē that originated it as a factor common to all human cultures and all historical periods. Power cannot be suppressed: any attempt to 'overcome' it (by eliminating one or another form of its exercise) has done no more than strengthen it. Power must, however, be 'uprooted' or subverted in its logic of identity, which is activated in the boundless character of desire and the paranoid scene of fear and the death of the Other. In the midst of today's global world, to trace a line of opposition to power means to free ourselves from the alibi of objectivity and to focus instead on subjects and their potential for metamorphosis/regeneration. This is possible only if we detach ourselves from the ground noise of actuality and recover the broken thread of solitary and extreme works.
ISBN: 978-1611496192
---
2015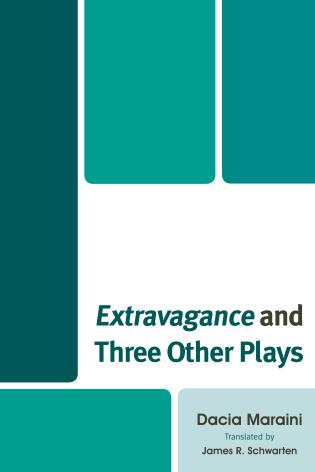 Extravagance and Three Other Plays by Dacia Maraini
Translated from the Italian by James R. Schwarten
The collection includes four theatrical works of acclaimed Italian author, Dacia Maraini, in a dual-language format (Italian/English). The works have been chosen around the themes of distress, exclusion, and various manifestations of tragedy with particular reference to women. The works were chosen within a modern and a historical reference in order to give breadth to the main themes. The individual works include: (a) Stravaganza/Extravagance. The unfolding drama alludes to the Legge Basaglia (the so-called Basaglia Law, 180/1978), whose prescriptions included the closure of insane asylums throughout Italy; (b) Camille. In this piece, Maraini offers a reinterpretation of the storied and controversial relationship between the sculptor, Auguste Rodin, and his young apprentice/assistant, Camille Claudel; (c) Storia di Isabella di Morra raccontata da Benedetto Croce/The Story of Isabella di Morra as Told by Benedetto Croce. In this play, the power of literature and the written word (the implicit, culpable "character" in this play) culminates in atrocious homicide; (d) I digiuni di Catarina da Siena/The Fasting of Catherine of Siena. Powerful relationships dominate this account of Saint Catherine's profound religiosity.
ISBN: 978-1611495454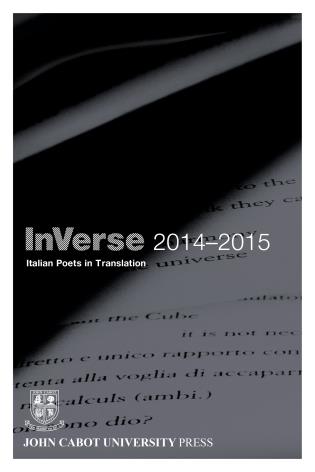 InVerse Italian Poets in Translation 2014-2015
Edited by Brunella Antomarini, Berenice Cocciolillo, Rosa Filardi
On the occasion of the tenth anniversary of the InVerse Poetry Festival, we are pleased to present the sixth edition of the InVerse poetry anthology.
Featured poets: Antonella Anedda, Gian Maria Annovi, Nadia Agustoni, Mario Benedetti, Antonio Bux, Biagio Cepollaro, Vladimir D'Amora, Roberto Deidier, Stelvio Di Spigno, Anna Maria Farabbi, Paolo Febbraro, Silvia Fiorentino, Mariangela Guatteri, Andrea Inglese, Bianca Madeccia, Giampiero Neri, Giulia Niccolai, Sandro Olimpi, Umberto Piersanti, Elena Buia Rutt, Francesco Serrao, Giacomo Trinci, Ida Travi
ISBN: 978-1-61149-584-3
---
2013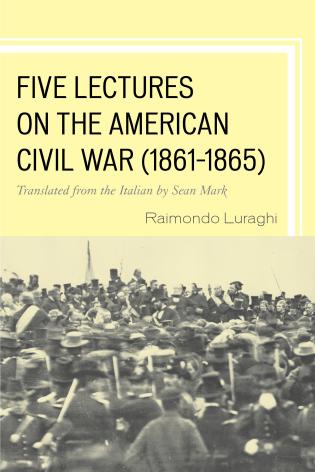 Five Lectures on the American Civil War, 1861–1865
by Raimondo Luraghi
Translated from the Italian by Sean Mark
The product of over thirty years of research on the American Civil War by Italy's most renowned authority on the subject, this study synthetically analyzes the great drama that from 1861 to 1865 that devastated the United States and gave life to the modern American nation. The book also highlights how the Civil War was the first conflict of the industrial age and an often neglected premonition of the two great wars that shook the world in the past century. The short essays presented here are the texts of five lectures delivered at the Institute for Philosophical Studies in Naples and published in Italy in 1997.
ISBN: 978-1611494266
---
2012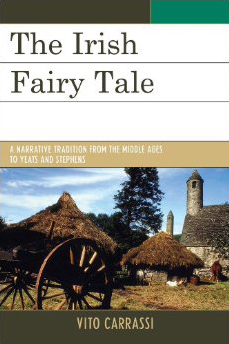 The Irish Fairy Tale: A Narrative Tradition from the Middle Ages to Yeats and Stephens
by Vito Carrassi
Translated from the Italian by Kevin Wren
Beginning with a critical reappraisal of the notion of "fairy tale" and extending it to include categories and genres which are in common usage in folklore and in literary studies, this book throws light on the general processes involved in storytelling. It illuminates the fundamental ways in which a culture is formed, while highlighting important features of the Irish narrative tradition, in all its wealth and variety and in its connections with the mythical and historical events of Ireland. The Irish Fairy Tale argues that the fairy tale is a kind of "neutral zone," a place of transition as well as a meeting place for popular beliefs and individual creativity, oral tradition and literary works, historical sources and imaginary reconstructions, and for contrasting and converging views of the world, which altogether allow for a deeper and more sophisticated understanding of reality. The book focuses on stories by Yeats and Stephens, whose approach to the subject marks the culmination of a long tradition of attempts at linking past and present and of bridging the gap between what appear to be contradictory facets of a single culture. This leads to a comparative study of Joyce's Dubliners, which illustrates the universal and exemplary nature of the notion of fairy tale put forward in the work.
Vito Carrassi is a writer and translator who teaches folklore at the University of Bari. His main fields of research are literary anthropology, narratology, Irish and Italian folklore.
ISBN: 978-1611493801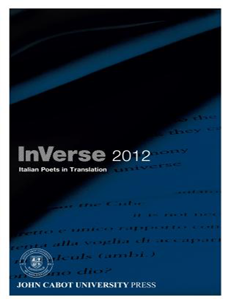 InVerse Italian Poets in Translation 2012
Edited by Brunella Antomarini, Berenice Cocciolillo, Rosa Filardi
On the occasion of John Cabot University's fortieth anniversary, we are proud to present the fifth edition of the InVerse poetry anthology. In hosting InVerse, the University is true to its deepest mission and commitment: to bring together Anglo-American and Italian cultures.
Featured poets: Andrea Zanzotto, Giuliano Mesa, Federico Zuliani, Elisa Biagini, Luigi Nacci. Alessandro De Francesco, Elisa Davoglio, Maria Luisa Spaziani, Elio Pecora, Annelisa Alleva, Sebastiano Aglieco, Sonia Gentili
ISBN: 978-1-61149-396-2
---
2011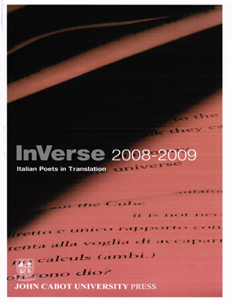 InVerse Italian Poets in Translation 2008-2009
Edited by Brunella Antomarini, Berenice Cocciolillo, Rosa Filardi
The anthology collects the works of renowned poets who already belong to the history of Italian poetry, together with younger and less known poets whom we believe are going to leave a mark on contemporary Italian poetry. The work of two well-known North American poets, Canadian Barry Callaghan and American Susan Stewart, is also featured in the anthology. They were special guests—with Valerio Magrelli and Mariangela Gualtieri - of two editions of the InVerse festival entitled InVerse-Two Poets in Mutual Translation. A brief selection of women futurist writers taken from Cecilia Bello Micciacchi's seminal book Spirale di dolcezza + Serpe di fascino – antologia di scrittrici futuriste further enriches the anthology.
Featured poets: Benedetta, Alessandra Berardi, Tomaso Binga, Silvia Bre, Nanni Cagnone, Maria Grazia, Calandrone, Barry Callaghan, Anna Cascella Luciani, Ottavio Fatica, Gabriele Frasca, Mariangela Gualtieri, Jolanda Insana, Paola Loreto, Valerio Magrelli, Giulio Marzaioli, Elisa Pezzani, Andrea Raos, Marilena Renda, Vito Riviello, Rosa Ros, Luigi Socci, Susan Stewart, and Valentino Zeichen.
ISBN: 978-1611493597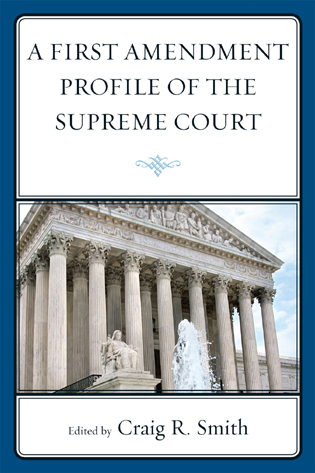 A First Amendment Profile of the Supreme Court
by Craig Smith
A First Amendment Profile of the Supreme Court focuses on the nine justices of the United States Supreme Court and determines their frames for assessing First Amendment cases. In each of the chapters, a justice will be profiled in terms of his or her claims during the nomination hearings and the positions they have taken in significant Supreme Court decisions. The object of these chapters is to provide a rhetorical frame that each of these justices would find appealing regarding First Amendment case law. Craig Smith is director of the Center for First Amendment Studies and professor of Communication Studies at California State University, Long Beach.
ISBN: 978-1611493610
---
2010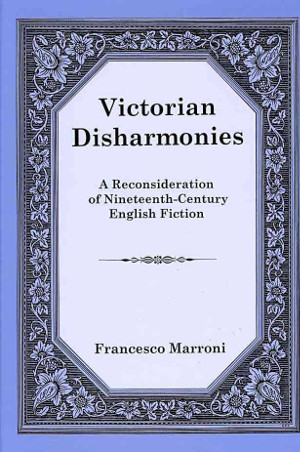 Victorian Disharmonies: A Reconsideration of Nineteenth-Century English Fiction
by Francesco Marroni
Focusing on the notion of transition as a destabilizing factor of nineteenth-century society, this book explores from a new critical perspective the canon of Victorian literature by regarding the paradigm of disharmony as an interpretative key to the narrative production of such authors as Charles Dickens, Wilkie Collins, Elizabeth Gaskell, George Gissing and Thomas Hardy.
ISBN: 978-0-87413-090-4
---
2009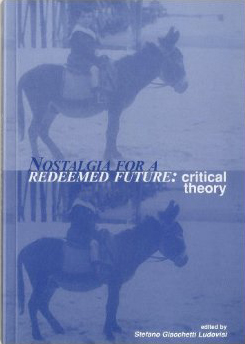 Nostalgia for a Redeemed Future: Critical Theory
Edited by S.Giacchetti Ludovisi
The book collects essays presented at the international conference on Critical Theory, held at John Cabot University on May 22, 2008. The articles in this book stress the relevance to the present of the early stages of Critical Theory. On the one hand they aim at the recognition of the fundamental role played by such authors as Benjamin, Bloch and Lukacs in the shaping of Critical Theory. On the other hand they reaffirm the fundamental importance of the works of the first philosophers of the Frankfurt School (and in particular Adorno, Horkheimer and Marcuse) against the sometimes hasty consideration of their work as outdated. Each article focuses on specific social, political and aesthetic issues.
ISBN: 978-0-87413-072-0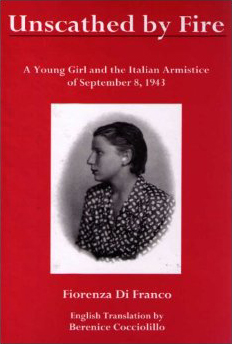 Unscathed by Fire: A Young Girl and the Italian Armistice of September 8, 1943
by Fiorenza Di Franco

Translated from the Italian by Berenice Cocciolillo

Told through the astonished eyes of a young girl, this book narrates the vicissitudes that JCU professor Fiorenza Di Franco and her family endured against the backdrop of Hungary, devastated by the tragic events of World War II. The original title of the book, Una ragazzina e l'armistizio dell'8 settembre 1943, refers to a critical moment during the war, when Italy signed an armistice with the Allied powers, ending the alliance with Germany. Fiorenza's father, an Italian diplomat stationed in Hungary, refused to adhere to the Fascist Italian Social Republic and was arrested by the Gestapo. He was deported to Mauthausen, where he was subject to the horrors of the Shoah with Jews and political prisoners like himself. In the meantime Fiorenza, her brother, and her Hungarian Jewish mother lived through a series of concentration camps, escapes, and periods of time in hiding.
"It has been said countless times that we need to educate young people so that the tragedy of the Holocaust can never happen again. Yet, as a university professor, I am amazed at how little students know about contemporary history. As a direct witness to the tragic events of World War II, I am offering my story in the hopes of making a piece of history more accessible."
ISBN: 978-0874130348
---
2008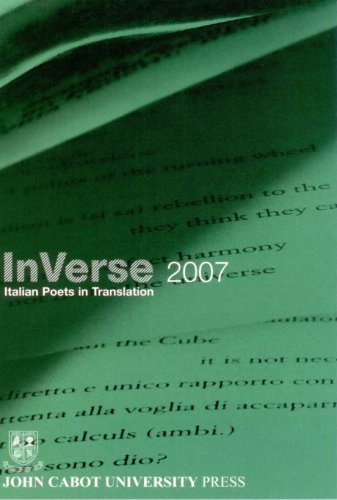 InVerse Italian Poets in Translation 2007
Edited by Brunella Antomarini, Berenice Cocciolillo, Rosa Filardi
The latest volume of the anthology collects the poems that were read during the third edition of the InVerse Poetry Festival in Spring 2007. If the role of poets today can still be that of narrating their time, each with her or his own language and mode and individual linguistic and expressive technique, then, in the words of our honored and affectionate guest Nanni Balestrini, poetry is still "the savage cry that tears out strips of moldy brain." It is "...an interminable Apocalypse. Or else it is not."
Featured poets: Giovanni Raboni, Stefano Dal Bianco, Luigia Sorrentino, Milo De Angelis, Patrizia Valduga, Nanni Balestrini, Rosaria Lo Russo, Lorenzo Carlucci, Anna Laura Longo, Mia Lecomte
ISBN: 978-0874130423
---
2007
InVerse Italian Poets in Translation 2006
Edited by Brunella Antomarini, Berenice Cocciolillo, Rosa Filardi, Alessandra Grego
The anthology collects all the poems read during the two evenings of InVerse 2006 with facing translation. It is also enriched by artist Andrea Malizia's beautiful Portraits of Poets. Malizia's photos are unusual and in a way "estranging" for their focus on details of bodies rather than on full representations. By focusing on details, he opens up new perspectives in the relationship between poets and poetry. The new perspectives provided by these poems and images may or may not coincide with depictions of reality, but are undoubtedly places where that reality is experienced in unique and fascinating ways.
Featured poets: Edoardo Albinati, Cristina Annino, Adelaide Basile, Marco Caporali, Anamaria Crowe Serrano, Annamaria Ferramosca, Marco Giovenale, Vincenzo Ostuni, Daniele Pieroni, Lidia Riviello, Massimo Sannelli, Gian Mario Villalta.
---
2006
InVerse Italian Poets in Translation 2005
Edited by Brunella Antomarini, Berenice Cocciolillo, Rosa Filardi, Alessandra Grego
This bilingual anthology is the final outcome of a project that began as a reading of contemporary Italian poets in the spring of 2005. At the root of the project was the desire to introduce English speakers to modern Italian poetry, since there are so many interesting authors who are as yet quite unknown internationally. So organizers/editors invited the poets themselves to read their work in Italian, and read the translations of the poems in English. Thus was In Verse born.
Featured poets: Daniela Attanasio, Corrada Biazzo Curry, Fabio Ciriachi, Paola Febbraro, Michele Ferrara degli Uberti, Piera Mattei, Chris Neenan, Tommaso Ottonieri, Tristano di Robilant, Davide Rondoni.