Commencement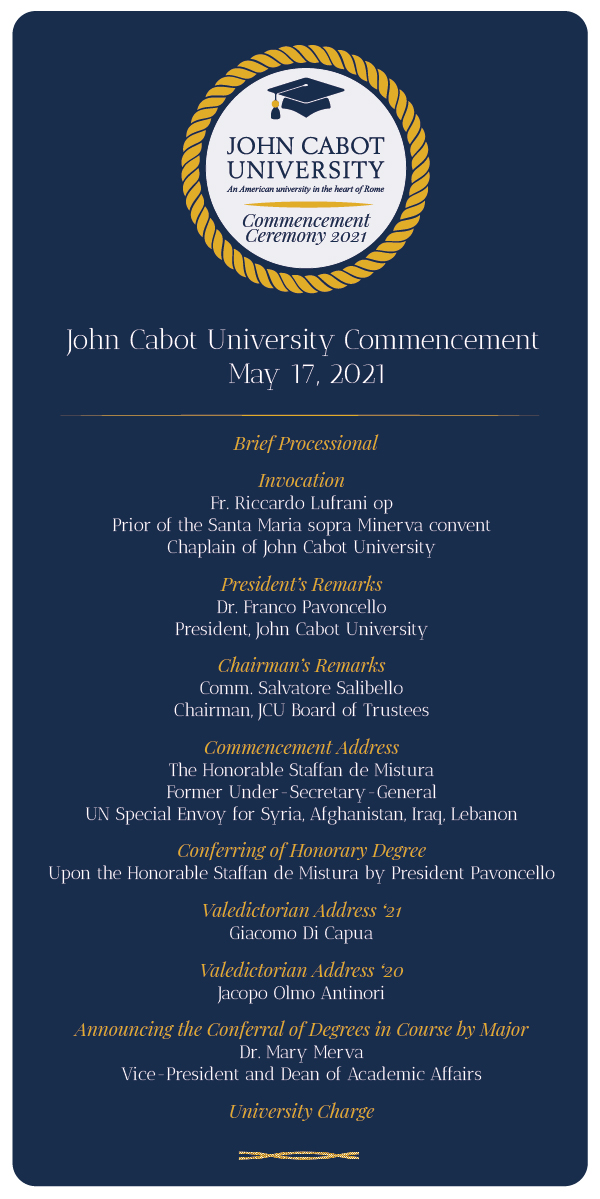 On May 17 at 6 pm CET, John Cabot University is planning to hold a hybrid Commencement to mark the conclusion of the academic year and to honor the Classes of 2020 and 2021. Graduates have been given the choice of attending the event in person or remotely. The event will take place in full compliance with the anti-Covid19 safety protocols established by the Italian government. The in-person element of the event is subject to last-minute changes/cancellation, in accordance with Italian government guidelines and weather conditions.
Only members of the Classes of 2020 and 2021 may attend Commencement in person. Families and friends will have the opportunity to follow remotely.
In order to hold this hybrid, socially-distanced event, the University will use several terraces and courtyards, and one large indoor space, with students divided into groups according to majors. Each group of students will receive their degrees from their respective Department Chairs or senior faculty. We will avail ourselves of sophisticated technology to broadcast and view images on screens in each area and to make the event accessible remotely.
Graduates should check their JCU emails regularly for important communications and updates regarding Commencement.
For the Student Regalia Policy, please see the Information for Graduates page.
Please note that due to Italian government restrictions it will not be possible to hold either the traditional Gala dinner or the post-Commencement reception.
How to Attend the Virtual Commencement
There will be two parts to the ceremony: The Welcome Session, and the Conferring of Degrees.
Part 1: Welcome Session (6 pm CEST - Rome time)
The Welcome Session will open the Commencement. Virtual attendees must connect to the YouTube streaming by clicking on the following link:
Note: There will be no music playing during the Brief Processional, so it is normal if you don't hear any audio at that time.
Part 2: Conferring of Degrees
After the Welcome Session ends, the Conferring of Degrees will begin. You will have 10 minutes to connect to the Degree Conferral Session that interests you. You can find the links to the separate Degree Conferral Sessions on this page below, or in the description section of the Welcome Session streaming on YouTube.
Please wait until the Conferring of Degrees YouTube streaming begins. You can simply close your browser once it is over.
YouTube Streaming Links to Degree Conferral Sessions:
Tutorials