Guarini Institute for Public Affairs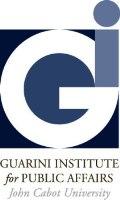 The Guarini Institute for Public Affairs was established through the generosity of the Honorable Frank J. Guarini, John Cabot University Trustee. The Institute offers an annual series of lectures, seminars, and encounters aimed at enhancing knowledge and understanding of the key issues and challenges facing the world today, in particular those affecting the United States and Europe.
Director: Federigo Argentieri, Ph.D.
Coordinator: Jacqueline Falk Maggi
The Guarini Institute Advisory Council
Doaa Abdel-Motaal holds a B.A. from Swarthmore College, an M.Sc. in Environment and Development studies from the University of Cambridge (UK) and a doctorate in Development studies from the University of Geneva. She is a former chief of staff of the UN International Fund for Agricultural Development (IFAD) and deputy chief of staff of the World Trade Organization.An environment and climate change expert, she traveled through the Antarctic and the Arctic and published the book Antartica: The Battle for the Seventh Continent (Praeger, 2016).

Eduardo Zachary Albrecht, JCU class of 1999, obtained his PhD in social anthropology from the School of Oriental and African Studies at the University of London. He is currently Program Head of the International Relations and Diplomacy Program at Mercy College in New York City and Research Director at Ethnographic Edge, a political risk consultancy project. He has published on social change in South Korea with Duke University Press, and has an upcoming book on social movements in Southern Europe with Palgrave Macmillan.
Leila Amineddoleh received her Juris Doctor degree from Boston College Law School and her undergraduate degree from New York University. She is a partner and co-founder of the law firm of Galluzzo & Amineddoleh where she specializes in art, cultural heritage, and intellectual property law, and serves as the Executive Director of the Lawyers' Committee for Cultural Heritage Preservation. She teaches at Fordham University's and at St. John's University's law schools, and speaks and publishes on topics related to art and cultural heritage.

Federigo Argentieri, director of the Institute, studied politics, history and languages at the Universities of Rome "La Sapienza", Budapest-ELTE, and Harvard. He has widely published on the contemporary history and politics of Central-Eastern Europe and Italy, particularly on the Hungarian Revolution of 1956 and its Western echoes and effects, as well as on Ukraine. He teaches courses on international security and comparative politics of Europe, Latin America and developing countries and regularly contributes to Italy's main newspaper "Corriere della Sera" and to other Italian and international media.
Tom Bailey teaches philosophy, political theory, and business ethics at John Cabot University. He studied at Oxford, Warwick and Pisa, and specializes in moral and political philosophy, Immanuel Kant, and post-Kantian philosophy of the nineteenth-century. He has published various articles and edited collections in these areas, particularly on the role of religions in liberal democratic politics, Kantian cosmopolitanism, and the philosophy of Friedrich Nietzsche.
Valentina Colombo teaches Geopolitics of the Islamic World at the European University, Rome and is Senior Fellow at the European Foundation for Democracy, Brussels. After graduating in Arabic Language and Literature from Cattolica University, Milan, she earned a PhD in Islamic Studies from Istituto Universitario Orientale, Naples. She published various studies on Islam, intellectuals and civil liberties.
John Fanti has a Master's in Engineering Economic Systems from Stanford. He opened AT&T's first office in Italy, and then, in 2000, started his own telecom company, Telefant Srl. He has been a member of the Board of the American Chamber of Commerce in Italy since 1994.
Anita Friedman graduated in Comparative Literature and Anthropology from Hofstra University. She is president of the association "Appuntamento a Gerusalemme", which disseminates information and organizes meetings, debates and visits related to Israel's politics, economy, culture and society.
Patrizia Feletig graduated in Economics and Business Finance at LUISS in Rome. She worked in financial institutions (Morgan Guaranty Trust), communications group (Shandwick) and the energy sector (Forum Nucleare, Assoelettrica). A freelance journalist, she is marketing consultant for electric car sharing Sharengo, a member of the Board of Directors of Sogin (public company for nuclear decommissioning) and General Secretary of Associazione InnovaFiducia for the promotion of trust value in the digital society, by the means of cultural and educational projects.
Robert T. LeClair is a graduate of the University of Pennsylvania and Northwestern University. He is an Associate Professor in the Finance Department of Villanova University where he teaches courses on international finance and investments. Dr. LeClair has been involved with Villanova¹s program in Rome at John Cabot University since 1999. He has been active within the business community and serves as a consultant of various non-profit organizations.
Christine D. Legault studied Communications and Journalism at l'Université de Montréal and earned a Masters degree in Social Sciences from The Open University (UK). She worked as a broadcast journalist in Canada for Global Television and then as a producer/foreign correspondent in Italy for various networks from 2008-2013. She currently works as a communications specialist for the Food and Agriculture Organization of the United Nations (FAO).
Guido Lenzi (Ambassador, ret.) represented Italy in London, Moscow, at the UN Headquarters in New York, Paris (as Director of the European Security Studies Institute) and Vienna (as Permanent Representative to the OSCE). He has published extensively and lectured on foreign policy issues.
Lucio Martino earned a doctorate in Comparative European History from the University of Bologna. He studied American politics and institutions at the Walker Institute of the University of South Carolina. He has been the expert for Transatlantic Relations at the Military Center for Strategic Studies in Rome since 2000, researching extensively on intelligence history and American foreign policy. He currently focuses on evaluating the international impact of the environmental changes underway in the Arctic Region.
Fr. James M. McCann, S.J., is Senior Vice President of the Gregorian University Foundation. He received a master¹s degree from Yale University in Russian and East European Studies and a doctorate in politics from Princeton University with a specialization in Russia, Eastern Europe, and international relations. He has taught at Loyola University Chicago and Xavier University in Cincinnati and has written on the politics and history of Russia and Poland as well as the relationship between Russia and the European Union.
Pierpaolo 'Peter' Sarram teaches Communication and Media Studies at John Cabot University where he also serves as Coordinator of the Communications Major in the Department of Political and Social Sciences. He studied Economics at Boston College and Film and Media Studies at Northwestern University's School of Speech. He has published extensively on popular culture, recorded music and film and his research is primarily involved in investigating the relationships between the construction of social subjectivities and popular and mass culture.
The Student Government of John Cabot University is made up of elected student leaders who seek to provide the official voice through which student opinion may be expressed. Student Government works to provide and stimulate student participation in overall policy and decision-making within the university. It works to encourage and foster an atmosphere of communication between administration, faculty, and the student body by advocating for students' needs and organizing various programs.
Eric R. Terzuolo holds a PhD in history from Stanford University and is the author of numerous publications on the proliferation of weapons of mass destruction, arms control, transatlantic relations, and the history and geopolitics of Italy, the Balkans and East Central Europe. A former US Foreign Service officer (1982-2003) and professor at various universities in Europe (2003-2010), he is currently Chair of the Western Europe Advanced Area Studies course at the Foreign Service Institute (US Department of State).
Helen Romana Viola is a professional journalist for RAI, and currently works at the Foreign Desk for the Italian National Radio, where she covers an array of worldwide events. She attended New York University and concentrated her studies on European history and U.S. politics. She began her journalistic career in New York, first writing for the weekly magazine Panorama, and then went on to the correspondence office for the Italian daily newspaper Corriere della Sera.
Carolina Zincone received a M.Phil. in International Relations and a Ph.D. in Social and Political Sciences from the University of Cambridge (UK). She worked in Kosovo as United Nations Volunteer (UNV) and in Bosnia with the Organization for Security and Co-operation in Europe (OSCE). She was then adviser to Italy's Ministers of International Cooperation and Integration, and to the international NGOs Avvaz and European Alternatives. She is currently responsible for media and communication at the Embassy of Palestine in Italy.
To visit Honorable Frank J. Guarini's website, click here.