Guarini Institute for Public Affairs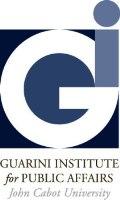 The Guarini Institute for Public Affairs was established through the generosity of the Honorable Frank J. Guarini, John Cabot University Trustee. The Institute offers an annual series of lectures, seminars, and encounters aimed at enhancing knowledge and understanding of the key issues and challenges facing the world today, in particular those affecting the United States and Europe.
Director: Federigo Argentieri, Ph.D.
Coordinator: Jacqueline Falk Maggi
The Guarini Institute Advisory Council
Doaa Abdel-Motaal holds a B.A. from Swarthmore College, an M.Sc. in Environment and Development studies from the University of Cambridge (UK) and a doctorate in Development studies from the University of Geneva. She is a former chief of staff of the UN International Fund for Agricultural Development (IFAD) and deputy chief of staff of the World Trade Organization.An environment and climate change expert, she traveled through the Antarctic and the Arctic and published the book Antartica: The Battle for the Seventh Continent (Praeger, 2016).

Eduardo Zachary Albrecht, coordinator of US-based advisers and JCU class of 1999, obtained his Ph.D. in social anthropology from the School of Oriental and African Studies at the University of London. He is currently Program Head of the International Relations and Diplomacy Program at Mercy College in New York City and Research Director at Ethnographic Edge, a political risk consultancy project. He has published on social change in South Korea with Duke University Press, and has an upcoming book on social movements in Southern Europe with Palgrave Macmillan.
Leila Amineddoleh received her Juris Doctor degree from Boston College Law School and her undergraduate degree from New York University. She is a partner and co-founder of the law firm of Galluzzo & Amineddoleh where she specializes in art, cultural heritage, and intellectual property law, and serves as the Executive Director of the Lawyers' Committee for Cultural Heritage Preservation. She teaches at Fordham University's and at St. John's University's law schools, and speaks and publishes on topics related to art and cultural heritage.

Federigo Argentieri, director of the Institute, studied politics, history and languages at the Universities of Rome "La Sapienza", Budapest-ELTE, and Harvard. He has widely published on the contemporary history and politics of Central-Eastern Europe and Italy, particularly on the Hungarian Revolution of 1956 and its Western echoes and effects, as well as on Ukraine. He teaches courses on international security and comparative politics of Europe, Latin America and developing countries and regularly contributes to Italy's main newspaper "Corriere della Sera" and to other Italian and international media.
Angela Brintlinger has a PhD in Slavic Languages and Literatures from the University of Wisconsin/Madison and is professor of Russian literature, chair of Graduate Studies and director of the Center for Slavic and East European Studies at Ohio State University. She writes primarily about Russian literature, culture, and film, and has expertise in emigre culture, food studies, and translation. She held the Fulbright Distinguished Chair of Slavic at Warsaw University and leads regularly student tours across Central and Eastern Europe.
John Fanti has a Master's in Engineering Economic Systems from Stanford. He opened AT&T's first office in Italy, and then, in 2000, started his own telecom company, Telefant Srl. He has been a member of the Board of the American Chamber of Commerce in Italy since 1994.
Patrizia Feletig graduated with a degree in Economics and Business Finance from LUISS in Rome. She has worked in financial institutions, communications groups, in the energy sector such as the national electrical utility association, EV sharing, and nuclear decommissioning. She has published books on renewable energy, nuclear, and environmental issues. She is Chairwoman of Copernicani, a non-profit association aimed at supporting the digital transformation of society by means of cultural and educational projects.
Fabio Filocamo holds an LL.M. from Harvard Law School, a Ph.D. in International Law & Economics from Molise University and a laurea from the University of Rome "La Sapienza." After ten years in consulting between Italy and the US, he was board and investment committee member of a VC fund, director for industrial research affairs at the Italian Ministry of University and Research, and director at the Italian Space Agency. Founder and managing director of Dnamis, a technology transfer and venture capital company, he is a columnist and innovation advisory board member at Corriere della Sera and president of the Harvard Club of Italy.
Costanza Hermanin got her Ph.D. from the European University Institute in Florence and was then a Fulbright Postdoc Scholar, partly at Columbia Law School and partly at UC Berkeley. She has been teaching comparative politics, nationalism, ethnicity and integration, and gender issues at various European universities and at JCU. Her research focuses on the European Union's decision-making and policy, especially in the areas of justice and home affairs, on migration in Europe and Italy, and on equality law. She worked in the cabinet of Italy's Minister of Justice (2016-2018), and held positions within the European Commission, the French Ministry of Foreign Affairs, and the Robert Schumann Center for Advanced studies. She has authored, among others, Fighting Discrimination in Europe (Routledge, 2012).
Robert T. LeClair is a graduate of the University of Pennsylvania and Northwestern University. He is an Associate Professor in the Finance Department of Villanova University where he teaches courses on international finance and investments. Dr. LeClair has been involved with Villanova¹s program in Rome at John Cabot University since 1999. He has been active within the business community and serves as a consultant of various non-profit organizations.
Lucio Martino graduated in Political Science at "La Sapienza" University in Rome and earned a doctorate in Comparative European History from the University of Bologna "Alma Mater Studiorium". He has been the expert for Transatlantic Relations at the Military Center for Strategic Studies in Rome since 2000, researching extensively on contemporary strategic trends and military dynamics. As a participant of a Fulbright program, he studied American politics and institutions at the University of South Carolina, where he currently resides.
Viviana Mazza is a journalist with a M.Sc. in Journalism from Columbia University (2004) and a post-graduate degree in International Law and Refugee Studies from the American University of Cairo (2006). She is German Marshall Fund fellow and a Young Leader at the Council for the United States and Italy. Since 2006, she has worked for Corriere della Sera covering the United States and the Middle East. In 2010 she was awarded the 'Luchetta Prize' and the 'Amerigo Prize' for journalism, in 2020 the 'Biagio Agnes' prize. She has authored several books, including The Girls of Revolution Street (published in Italy in March 2019), a collection of stories about women she met over the last thirteen years in Syria, Iran, Saudi Arabia, Egypt, Afghanistan and Pakistan.
Fr. James M. McCann, S.J., is Senior Vice President of the Gregorian University Foundation and Director of Campus Ministry at the Georgetown University Law Center. He received a master's degree from Yale University in Russian and East European Studies and a doctorate in politics from Princeton University with a specialization in Russia, Eastern Europe, and international relations. He has taught at Loyola University Chicago and Xavier University in Cincinnati and has written on the politics and history of Russia and Poland as well as the relationship between Russia and the European Union.
Hans Noel is an associate professor of Government and the American Government field chair at Georgetown University. He received his Ph.D. from UCLA in 2006, his B.S. in Journalism from the Medill School of Journalism at Northwestern University in 1994, and has been a Robert Wood Johnson Scholar in Health Policy Research at the University of Michigan, a fellow in the Center for the Study of Democratic Politics in the Woodrow Wilson School of Public and International Affairs at Princeton University, and Faculty-in-Residence at Villa Le Balze in Fiesole, Italy. His research is on political coalitions, political parties, and ideology.
Amy K. Rosenthal, John Cabot University class of 1995, holds an M.Sc. in Comparative Politics from LSE and a Ph.D. in Contemporary European History from Queen Mary, University of London. She has taught at various American university programs in Rome and has been a visiting lecturer at the Goldstein-Goren Department of Jewish Thought, Ben-Gurion University of the Negev. As a journalist, she has worked for ABC News and has written extensively on Israeli, Italian and U.S. politics, economics, history, and culture. She currently works as a translator and writes for The Times of Israel.
Farian Sabahi is a journalist, writer and academic specialized in Iranian and Yemeni history and politics. She has a degree in business administration from Bocconi University, a Ph.D. from London SOAS and has done post-doctoral research at the Universities of Geneva and Bocconi. She has been teaching at John Cabot, Bocconi, Roma Sapienza, at the universities of Turin and Geneva, and is currently an adjunct professor at Valle d'Aosta and Insubria (Como and Varese). She holds seminars on how to conduct business in the Middle East and Central Asia and writes for Corriere della Sera and Il Sole 24Ore. Her main works are We, the Women of Tehran (Jouvence, 2014), and Il bazar e la moschea. Storia dell'Iran 1890-2018 (Bruno Mondadori, 2019).
Pratishtha Singh holds a Ph. D. in Italian literature from the University of Delhi. Her previous degrees are from the Department of Germanic and Romance Studies and the School of Language in the University of Delhi and Jawaharlal Nehru University respectively. Having taught Italian literature in India for several years, she is currently actively involved in politics in the country. She contributes regularly in leading dailies in India and has written books on various subjects including poetry, politics, and didactics. Her articles and essays have been published in journals and books across the world, especially in India and Italy.
The Student Government of John Cabot University is made up of elected student leaders who seek to provide the official voice through which student opinion may be expressed. Student Government works to provide and stimulate student participation in overall policy and decision-making within the university. It works to encourage and foster an atmosphere of communication between administration, faculty, and the student body by advocating for students' needs and organizing various programs.
Eric R. Terzuolo holds a PhD in history from Stanford University and is the author of numerous publications on the proliferation of weapons of mass destruction, arms control, transatlantic relations, and the history and geopolitics of Italy, the Balkans and East Central Europe. A former US Foreign Service officer (1982-2003) and professor at various universities in Europe (2003-2010), he is currently Chair of the Western Europe Advanced Area Studies course at the Foreign Service Institute (US Department of State).
Helen Romana Viola is a professional journalist for RAI, and currently works at the Foreign Desk for the Italian National Radio, where she covers an array of worldwide events. She attended New York University and concentrated her studies on European history and U.S. politics. She began her journalistic career in New York, first writing for the weekly magazine Panorama, and then went on to the correspondence office for the Italian daily newspaper Corriere della Sera.
Carolina Zincone received a M.Phil. in International Relations and a Ph.D. in Social and Political Sciences from the University of Cambridge (UK). She worked in Kosovo as United Nations Volunteer (UNV) and in Bosnia with the Organization for Security and Co-operation in Europe (OSCE). She was then adviser to Italy's Ministers of International Cooperation and Integration, and to the international NGOs Avvaz and European Alternatives. She is currently responsible for media and communication at the Embassy of Palestine in Italy.
Visit Honorable Frank J. Guarini's website.