Message from the Communications Department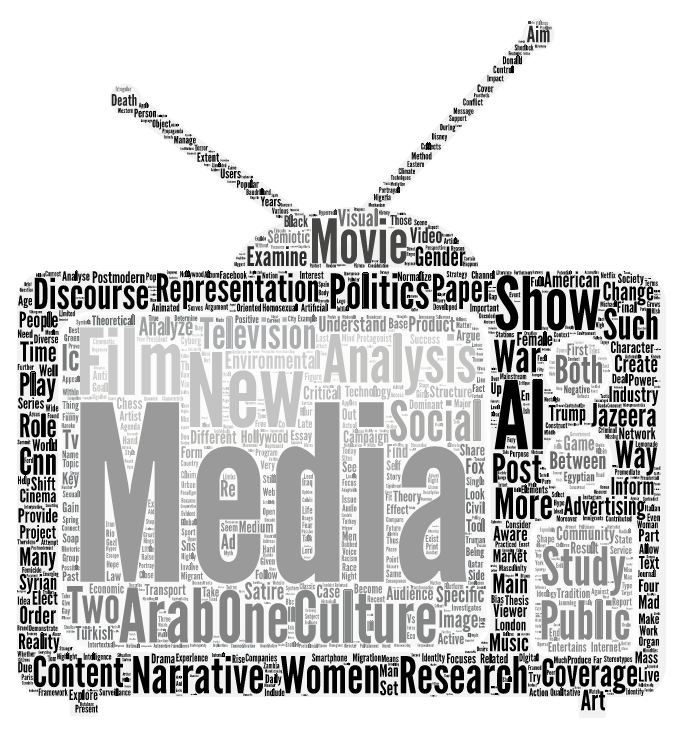 A word cloud from the abstracts
of senior capstone projects
In our hyper-mediated environment we believe all organizations are media organizations. Whether in film, TV, music, marketing, education, NGO or corporate sectors, all organizations require a media presence. Just as importantly, civil society and political participation require 21st century skills that include critical thinking, problem solving and communication. Subsequently, whether the goal is to continue on to graduate school, become an entrepreneur, work as a professional media maker, or work as a professional communicator for enterprise or non-government organizations, we equip students with a variety of tools to enable them to succeed in a globalized media environment. To this end, our students have gone on to prestigious graduate and PhD programs (London School of Economics, New School for Social Research, King's College, Goldsmiths), internships (NPR, UNESCO, FAO) and have found work with major international organizations (New York Times, Al Jazeera, The Norwegian Nobel Committee, Greenpeace, UNESCO). Students can jumpstart their media career through our partnership with The New School, which allows students to pursue a fast track to a graduate certificate or Masters in Media Management while attending JCU. In addition, our agreement with the University of Milan (Università degli Studi di Milano) is the first to offer a dual US B.A./Italian Laurea in Communications.
In order to prepare students to be active global citizens, our major balances theory-oriented courses with practice in areas such as journalism, moving images production, visual communication and digital multimedia. We have cutting edge digital video production equipment and facilities, and a modern TV studio. Our core theory courses and electives cover a range of topics that include a survey of media, culture and society; visual communications; digital media culture; advanced theory; ethics; globalization; political communication; media and the environment; gender and race; film (history, theory, national and global cinema); intercultural communication; Arab media; gaming; and digital ethnography. Practical courses include digital video production (narrative and non-narrative), fiction and documentary film, video essays, sound design, screenwriting (TV and film), journalism, writing across media platforms, and public speaking. During their senior year degree-seeking students combine scholarly research and media production with the creation of video essays.
Because we view Rome as an extended classroom, students gain practical experience outside of the university by working with local organizations and participating in community activities. In addition, our program also organizes a number of university-wide activities, including the Communications and Media Speaker Series, film screenings with directors, international conferences, author events, fieldtrips to the world-famous film studio Cinecittà, and forums about current events. In recent years our department has partnered with major international institutes and universities to co-host prestigious international conferences, including the International Media Education Summit and Fear and Loathing of the Online Self. Recent film series include showcases of contemporary Syrian documentaries and Ethiopian cinema.
We offer one of the few rigorous North American communications and media studies programs in the Mediterranean. For Italians, our partnership with the Università degli Studi di Milano attests to the very uniqueness of the major. Our location in the Mediterranean also creates a rich environment that attracts students and scholars from the region, including North Africa and the Middle East. Our program fosters and encourages cross-cultural encounters, making our classrooms microcosms of the global communications environment. By offering an interdisciplinary curriculum model that explores the impact of media on society, we believe that our students are uniquely prepared to engage a rapidly changing world of media and communication.